Many weeks ago, my friend
Rebecca
posted this image on her instagram feed. She took the photo on her morning walk. I was drawn in by the verse, the meter, and the message.

"Ring the bells that still can ring
forget your perfect offering
there is a crack in everything
that's how the light gets in."
-Leonard Cohen

The quote reminded me of a discussion I once had with my friend, Father Rusty. We were talking about brokenness of humanity, and how society often dictates that we have to hide our broken nature, that we must keep our faults hidden so that we won't be judged or looked down upon by others. That we must cover up our differences, our frailties, our sorrows for fear of being seen as weak.
I know that in the past I've felt pressure to hide the fact that sometimes math gives me issues, that I've lived with migraines, or that I went through post traumatic stress disorder after my son was born. It's as if we fear that getting labeled as having a "problem," will somehow own us, define us, and limit our future.
Instead, it's these unique aspects of ourselves, these different experiences, these hardships that we have overcome that give us strength and dimension.
Just as it is the cracks in a wall that light shines through to create beautiful patterns of sunlight in a courtyard.
Without our broken-ness, we would miss some of the depth of our own beauty.
And it is the holes in a lantern that allow us to see the light radiating from the center.
Without the nicks in life's armor, we would not be able to shine the light of experience for others.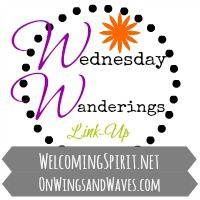 The simple rules:
1. If you post something, please stop by and leave a comment on the 2 people that posted before you.
2. Please stop by "On Wings and Waves" and say hi to Kristen :)
3. Please share links from your blog that you haven't shared here before.
4. Please grab the Wednesday Wanderings button and share it in your post so other people can join in the fun.
Let's get linking!
Linking up with: