Today I thought I'd share a little Pinspiration around the word Joy. Ready? Here we go!
"Joy is prayer. Joy is strength - Joy is love - Joy is a net of love by which you can catch souls." - Mother Teresa
from Pinterest
"We cannot cure the world of sorrows but we can choose to live in joy." - Joseph Campbell
via Pinterest
"Joy is what happens to us when we allow ourselves to recognize how good things really are." - Marianne Williamson
via Pinterest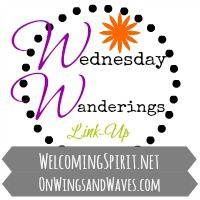 The simple rules:
1. If you post something, please stop by and leave a comment on the 2 people that posted before you.
2. Please stop by
"On Wings and Waves"
and say hi to Kristen :)
3. Please share links from your blog that you haven't shared here before.
4. Please grab the Wednesday Wanderings button and share it in your post so other people can join in the fun.
Let's get linking!