I came across several really interesting posts this week that I think should be shared. Hope you all have a lovely weekend!
For the Working Spirit:
Re-imagining the Purpose of our Spiritual Work at the High Calling
- my favorite quote from this post by J.B. Wood was in response to why we compartmentalize our spiritual life and our work life, separately. "20th-century White Evangelical Suburban culture that says God only wants us to be missionaries and ministers, and anything else is second-hand throw-away junk." Are we all struggling with this idea? Or is there a way to marry the Christian ideals with work? I love the question of this struggle.
For the Mourning Spirit:
A Christian Response to The Colorado Shootings from Getting Down With Jesus
- I read about the Colorado Shooting in Aurora on Saturday morning, when I checked Facebook. I'm in awe of HOW we find out about major news anymore, but even more moved about HOW Jennifer Dukes Lee writes about the tragedy of last weekend. Her prose in this post is moving, her observation that it was both "The darkest of nights.
The darkest of knights."
brought me to tears. And the resolution to the knowledge that "We carry a light, to guide us into God's sublime secrets." in response to this kind of darkness is reassuring, triumphant. We are the light of the world, indeed.
For the Home Decorating Spirit:
Entry-way Redo, Yes! on Hello! from the Natos!
- I have added this gorgeous treatment to my to do list for the Casita. It is astounding, and full of organization. It will go right after finishing the baseboards, making the kitchen curtains, painting the hutch, putting beadboard up in the kitchen and painting the whole kitchen. And getting a new roof. Oh, sigh: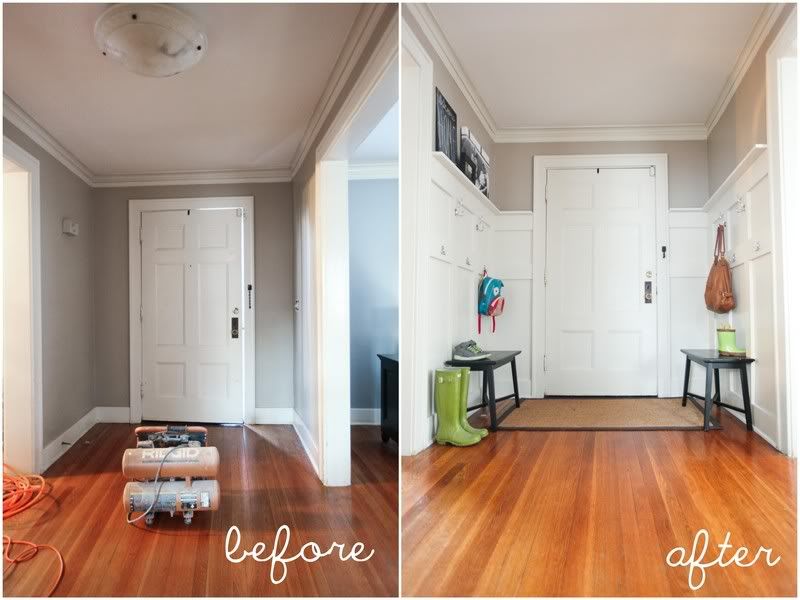 And for The Cooking Spirit:
Crockpot Cream Cheese Chicken on a beach cottage
: We've been looking for new recipes, and specifically simple and easy ways to make dinner. This recipe is on the docket for the weekend. I can't wait to break out the crock pot and get going on it. It sounds de-lish!